---
CISSVA CASEIFICIO SOCIALE DI VALLECAMONICA E DEL SEBINO COOPERATIVA AGRICOLA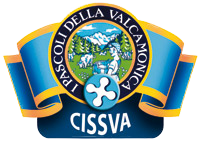 Headquarters:
Via Briscioli, 40 – 25044 Capo di Ponte
Store Locations:

Capo di Ponte

Via Briscioli, 40
Tel.0364 331188
E-mail:info@cissva.it
from 08.00 to 12.30 and from 15.00 to 19.00

Esine "Il Mercato dei Sapori"

Località Toroselle SS42
Tel 0364 466590
from 08.00 to  20.00 open alla day.

Iseo

Via Roma, 92
Tel 030 9822508
from 08.00 to 12.30 from 15.00 to 19.00

Web

Sito web
Facebook
Twitter
Guided Tour Availability:

Reservations Only
THE COOPERATIVE
The Social Dairy of Valle Camonica and Sebino was born in 1982, in order to organize and combine the milk collection activity and the production of cheeses from the local farms. Over the years CISSVA has invested in new technologies, without ever straying too far from the tradition and productive know-how of our craftsmen.
PRODUCTION
CISSVA takes care of every detail of the production of the cheeses: from the selection of the raw material, the milk, 100% Italian and coming from pastures raised in the surrounding valleys, to the actual processing with the putting into the molds of the curd and salting, up to the final seasoning.
SALES POINTS
You can find all the cheeses and CISSVA in our stores distributed in the province of Brescia, in the municipalities of Capo di Ponte, Iseo and Esine. At the points of sale you will also have the opportunity to customize food and wine gift baskets with cheeses, preserves, typical salami and much more.
---
---